---
Affiche - Habiter le Théâtre
---
︎ FR

Affiche pour l'exposition "Habiter le Théâtre" réalisée par Martin Foucaut & Adrien Jacquemet présentant 5 travaux d'étudiants réalisés sur 6 mois dans le cadre du projet mené en partenariat avec le Théâtre d'Orléans. Le projet aborde l'ensemble des problématiques de la mise en espace, du signe à l'espace en passant par l'objet, le son, la lumière...Il s'agit de concevoir un projet de mise en espace scénographique plastique et graphique, une intervention à l'échelle du théâtre, de la ville. Adrien et Martin ont également pu participer au partenariat en proposant le projet Fragments de Scène.


---
︎ EN

Poster for the exhibition "Habiter le Théâtre" made by Martin Foucaut & Adrien Jacquemet, partnership with the Orléans Théater introducing 5 student works made over 6 months.
The project goes through the space and sign issues, going through the object, sound, and light… It is all about designing a graphic and plastic scenographic space project, an intervention at the scale of the theater and the city. Adrien & Martin also participated to the partnership with their project Fragments de Scène.


---
Head/Responsable
Severine Chavrier, head of the National Theater of Orléans
Teachers/Professeurs
Nicolas Girard, ÉSAD Orléans
Eric Verrier, ÉSAD Orléans
Assistants/Assistants
Louise Sari, National Theater of Orléans
Graphic Design/Graphisme
Martin Foucaut
Adrien Jacquemet
Photography/Photographie
Martin Foucaut
Adrien Jacquemet
Partners/Partenaires
ÉSAD Orléans
Centre Chorégraphique National d'Orléans
---
Format
A1
Printing method /Méthode d'impression
RGB Laser
Printing machine/Imprimante 
Konica Minolta Bizhub Pro C10601C Printer /
Printer /Imprimeur
Philippe Szyman (ÉSAD Orléans)
Font/Typgraphie
Px Grotesk (Optimo Foundry)
Matériaux/Materials 
EPSON enchanced matte paper 189g/m2
+ Spectra jet duo print 130g/m2
Affiche de l'exposition "Habiter le Théâtre" / Poster of the exhibition
Livret explicatif du projet "Fragments de Scène"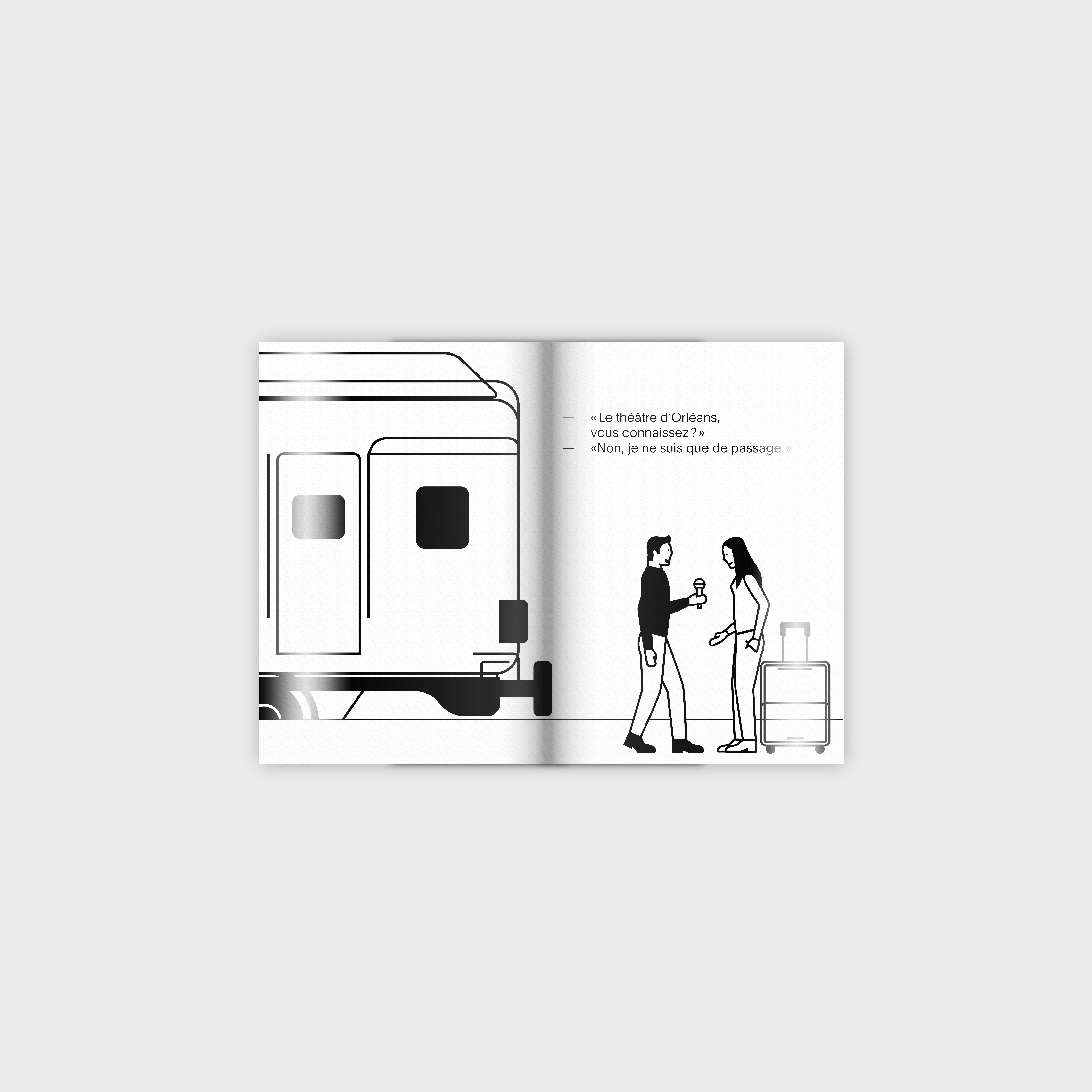 Affiches explicatives du projet "Fragments de Scène" - Introduction
Affiches explicatives du projet "Fragments de Scène" - Captations
Affiches explicatives du projet "Fragments de Scène" - Implantation
Affiches explicatives du projet "Fragments de Scène" - Dissémination