---
Caution Weird Floor – XPUB Geocatching Game

---
︎ EN
Become a player of the Geocaching Game and visit The Hague Contemporary Art Weekend in an unusual way.

"The city as glistening greasy icy perilous polished silky unstable wet floor. The THC Art Weekend's locations as foothold niche perch toehold crevice hold footing device."

Martin Foucaut and Federico Poni, two students from the Master Experimental Publishing, Piet Zwart Institute, developed a web app allowing the user to compose and generate custom routes across the different contemporary art locations of the city.

These routes are generated from a series of combined words picked by the player, creating speculative poetry and offering many ways to explore the diverse manifestations of the event's partners. During the Art Weekend, derive through Den Haag catching the Weird Yellow Signboards around the locations and get a Weird Slippery Poem.

Visit weirdfloor.thehaguecontemporary.nl (mobile only) for your geocaching experience or scan the QR code on one of the signs at our partner locations.
---
︎ FR
Jouez à 'Caution Weird Floor' ('Attention Sol Étrange') et visitez le weekend de l'Art de la Haye d'une manière inhabituelle.

La ville est un sol glissant, gras, glacé, périlleux, poli, soyeux, instable et humide, et les lieux du THC Art Weekend sont des points d'ancrage, des niches, des perches, des crevasses, des dispositifs de maintien.

Martin Foucaut et Federico Poni, deux étudiants du étudiants du Master Experimental Publishing de la Piet Zwart Institute, ont développé une application web permettant à l'utilisateur de composer et de générer des personnalisés à travers les différents lieux d'art contemporain de la ville.

Ces itinéraires sont générés à partir d'une série de mots combinés choisis par le joueur, créant ainsi une poésie spéculative et offrant de nombreuses façons d'explorer la ville. spéculative et offrant de nombreuses façons d'explorer les diverses manifestations des partenaires de l'événement. partenaires de l'événement. Pendant le week-end de l'art, déambulez dans La Haye puis scannez les panneaux jaunes bizarres autour des lieux et obtenez un poème glissant bizarre.

Visitez weirdfloor.thehaguecontemporary.nl (smartphone seulement) pour votre expérience de géocaching ou scannez le code QR sur l'un des panneaux dans les lieux partenaires.
.
---
Web Design

Martin Foucaut
Federico Poni
Concept

Martin Foucaut
Federico Poni
Graphic Design/Graphisme

Martin Foucaut
Photography

Martin Foucaut
Federico Poni
Louisa Teichmann
Partner
The Hague Contemporary
Signs locations/Lieux
—
1646
- Boekhorststraat 125
—
Dürst Britt & Mayhew
- Van Limburg Stirumstraat 47
—
Fotomuseum Den Haag
- Stadhouderslaan 43
—
Galerie Maurits van de Laar
- Herderstraat 6
—
Galerie Ramakers
- Toussaintkade 51
—
Gallery Nono
- Korte Vijverberg 4
—
Heden
- Denneweg 14A
—
KABK
- Prinsessegracht 4
—
KM21
- Stadhouderslaan 43
—
Kunstmuseum
- Stadhouderslaan 41
—
NEST
- De Constant Rebecqueplein 20B
—
Page Not Found
- Boekhorststraat 126-128
—
Parts Project
- Toussaintkade 49
—
PIP Den Haag
- Binckhorstlaan 36
—
Stroom Den Haag
- Hogewal 1
—
Studio Saber
/
Arte Sin Limites
Anna Paulownastraat 71
—
The Grey Space in the Middle
- Paviljoensgracht 20
—
The Hague Street Art
- Prinsegracht 14
—
Trixie
- Scheldestraat 1-11
—
West Den Haag
- Lange Voorhout 102
---
Programming Languages

CSS
Html
Javascript
Nltk
+ Isotope filtering
Format
Web to Print
Printing method /Méthode d'impression

CMYK
Printing machine/Imprimante 
Unknown
Printer /Imprimeur
Willem De Kooning Academy
Paper/Papier
Unknown
Typefaces/Typographies
Brute grotesque (Bureau Brut)
At Apoc (Blaze Type)
App in use (location choices generate a bezier path on the map)
KM21 and Fotomuseum Den Haag - Stadhouderslaan 43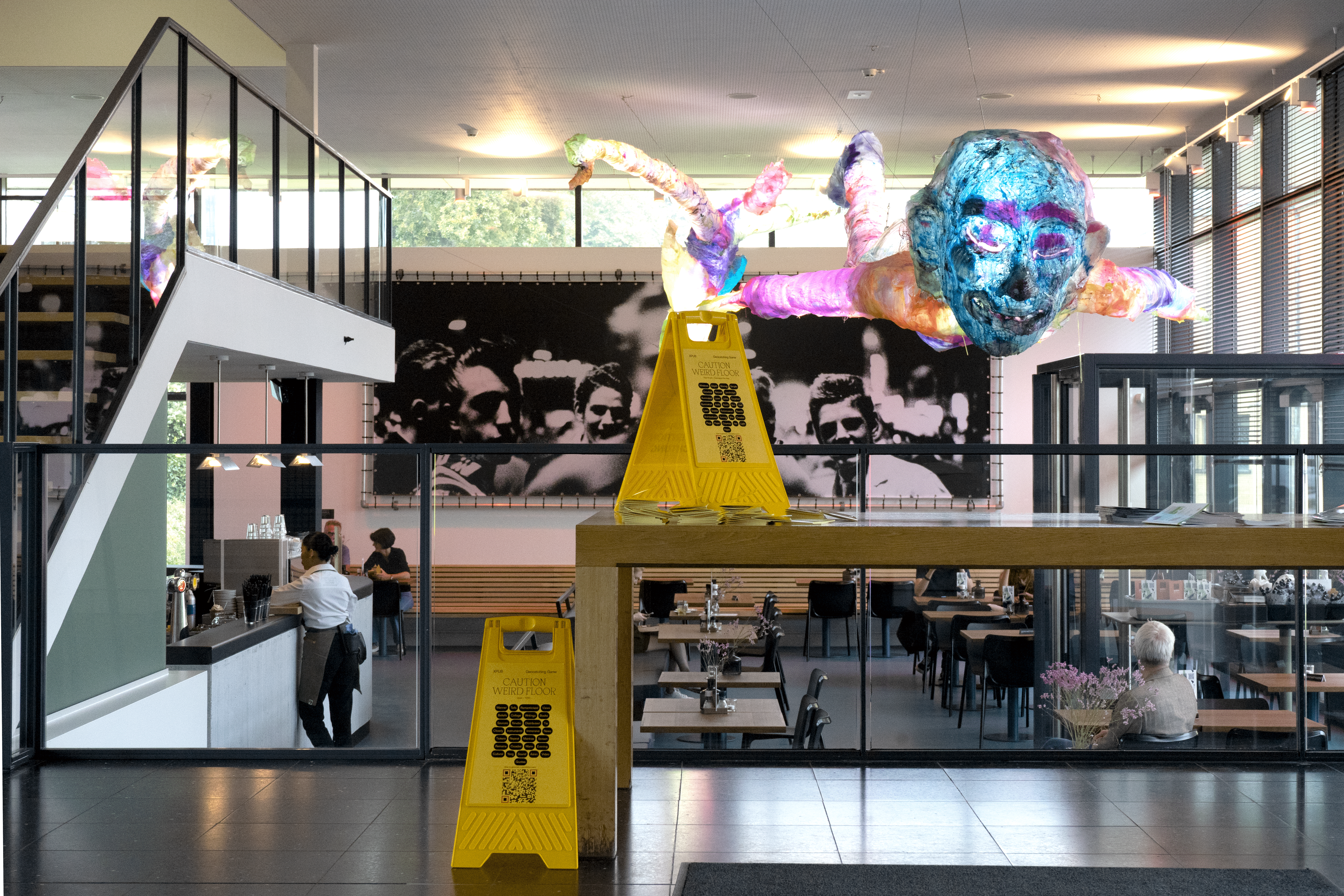 Parts Project - Toussaintkade 49
Galerie Ramakers - Toussaintkade 51
Royal Academy of The Hague (KABK)- Prinsessegracht 4
NEST - De Constant Rebecqueplein 20B
Trixie - Scheldestraat 1-11
Kunstmuseum - Stadhouderslaan 41
Galerie Maurits van de Laar - Herderstraat 6
Page Not Found - Boekhorststraat 126-128
KM21 and Fotomuseum Den Haag - Stadhouderslaan 43
Dürst Britt & Mayhew - Van Limburg Stirumstraat 47
1646 - Boekhorststraat 125
Kunstmuseum - Stadhouderslaan 41
West Den Haag - Lange Voorhout 102
- Prinsegracht 14